2019 Current Forsyth Exhibitions and Events
June 15–Sept. 1, 2019
Glass was once sand and color once mineral or chemical. Heat and skill once guided the hands of those who created the decorative glass housed in the Runyon Collection.
Forsyth Galleries | Memorial Student Center, MSC 2428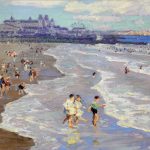 June 19–Aug. 25, 2019
Fluid Dynamics explores man's fascination with water and how it is used by artists as symbols, compositional devices, and even to alter the mood of an artwork.
Forsyth Galleries | Memorial Student Center, MSC 2428